Lint free rags are the sustainable wiping or cleaning option as they are made from recycled textiles. However, no textile rag wiper is ever truly 100% lint-free because of the very nature of recycled textiles and how they are processed. We cut up used garments, sheeting, and bedding into reusable pieces of textile rag wipers, metal-detect them, and then package them into assorted weights ready for despatch.
Lint is shreds of yarn, loose cotton threads and fibres that often detach themselves from textiles and are most common on new garments and sheets before their first wash. There are different degrees of lint, from visible threads, strands, and fibres to fluff and microfibres that can be picked up in certain lights. Therefore, we grade our recycled textile rag wipers according to the way they are likely to leave lint behind when wiping over surfaces, with extremely low linting ones being classed as lint-free in the industry.
Two common examples of recycled lint-free rag textile wipers would be our premium white sheeting and white linen options, as they do not contain fluff. Our premium white sheeting and white linen materials are recycled from laundries that serve the hotel and leisure industry, being washed numerous times in their life span, ensuring the benefit of any loose fibres being dissipated leaving an extremely low linting textile material to produce lint-free cotton cloths.
The most lint-free recycled industrial textile rags in our range are the white linen napkins, being heavy cotton with hemmed edges, with no loose cotton fibres or strands that can become detached when used to clean down equipment and very effective absorbent qualities, leaving a clear finish to components during servicing operations.
Premium white sheeting is also known as Grade A White Cotton Rags and Number 1 White Cotton Rags.
Why is it essential to use a lint-free rag?
When wiping down a machine part or absorbing excess liquid with a rag, you can't always afford to leave small fibres (lint) on the surface, especially if they are like printing rollers that pass new products through in quantity, as this can cause build-up or unwanted blemishes on their surfaces.
Wiping down metal panels before powder coating is another area you need a lint-free rag as any fibre left on the cleaned surface can stop the paint from sticking or sullying the finish.
Small issues like this cause secondary costs in rectifying, therefore we want to take this opportunity to educate our customers and ensure that they can select the most appropriate recycled rag wipers for their needs.
As a result, Davis & Moore have gone through all the textile rag wipers that they manufacture and allocated scores according to three key areas that are associated with common usage of industrial rag wipers – Absorbency, Linting and Polishing Qualities. You can see this in the chart below.
When selecting a grade of textile rag cloth from our range like; coloured t-shirt, mixed white cotton, terry towelling rags, white sheeting, or white linen, the qualities indicators show what we associate each product with how lint-free each rag wiper is on a scale of 1 to 10 (with 10 being very good).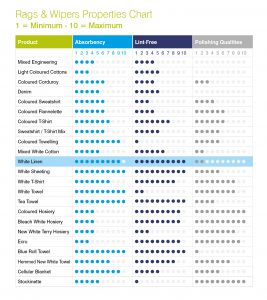 Click this link to view the full range.
Buy lint-free rag wipers at our online store on this link.
White cotton rags and coloured wipers can be supplied in several different ways and quantities, with 10kg and 5kg boxes for customers that want the wipers loosely packed and not compressed or 10kg, 8kg and 7kg compressed bales of textile rags and polishing cloths, saving space, in polythene bags that create a waterproof barrier keeping your rags dry. Pallets of rags or bags of rags for the industrial market.
If you want a complete 100% lint-free rag then you would need to look at our non-woven cloth options. Our Smartora Multi Roll or Smartora Multi Cloth are both popular products in the industry and are used where there is sensitive equipment and surfaces. Made from hydroentangled cotton into smooth soft sheets and used in laboratories, pharmaceutical and printing industries these products are an excellent choice for cleaning high-value components.